---
HAWK NEWS
The CJ Hawk/Lightning 2015 Martorelli team finished the July recruiting period with an 18-4 record. Starting off July in the Run for the Roses Tournament (Lexington, KY), the team posted victories over teams from Canada, West Va. and New York while losing a close playoff game to B-Wright Hoops (TX). The team moved on to Nashville, TN and competed in the Battle in the Boro Tournament where they went 4-1 in pool play before dropping a playoff game to a strong Comets team. The players managed to find some down time, enjoying their first country music concert in Music City. After a week break, the team moved on to the USJN 17U National Championships in Washington DC. Facing its toughest competition yet, the team emerged from pool play with a 5-0 record vs. teams from Arizona, MD., MA.,IN. and CT. before dropping a hard fought playoff game to a tough VA. Elite squad. The team finished the month going 5-0 at the BlueChip Basketball Season Finale Tournament in PA.
After the season ended, the team hosted their annual golf outing at the Greenbriar Golf Club in Monroe, NJ. The event, sponsored by Monroe Sports Center, L&M Graphics, Vision Graphics, and VisionBarrier.com was a huge success and the perfect end to a very busy season. The team looks forward to competing in Spooky Nook, PA during the September open period.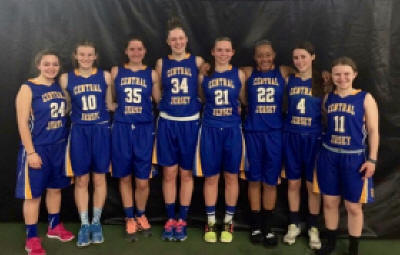 The Central Jersey Hawks 2017/Martorelli team won its Pool in the 2015 Blue Chip Pre-Season Challenge. After hard fought wins over the NJ Rising Stars and NY Metros, the team lost a 2 point overtime thriller to the Always 100 organization out of Indiana. The Hawks rebounded to score victories over Mid-Penn Motion and the Carolina All-Stars to lock up 1st place in the pool with a record of 4-1.
The team will continue to work towards the July NCAA recruiting events in Lexington, Ky (Run for the Roses); Nashville, TN (Battle in the Borough); Washington DC (USJN) before returning to Spooky Nook, PA (Blue Chip Finale) for its final summer tournament.
---
Shore area basketball coach/trainer extraordinaire, Tiny Green, in his Nothing But Skills Blog, highlighted the CJ Hawks 2017/Martorelli team. Coach Green gives his insights about the team and its players and we have to agree that his analysis is spot on. The blog can be found at: http://nothingbutskills.com/central-jersey-hawks-17-martorelli/
RECENT VERBAL COMMITMENTS
---
FORMER HAWKS IN THE NEWS
---
HIGHLIGHTS
---
3 National AAU Championships
44 NJ AAU Association Championships
21 Sweet 16 appearances in National AAU

125 Former Hawks playing in the NCAA
22 boys and girls teams from U10 thru Open Division