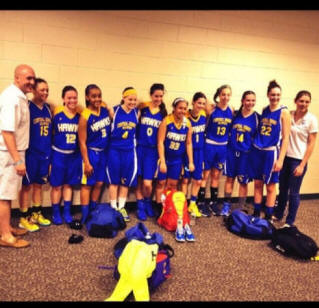 The Central Jersey Hawks 14U (
DiPillo
) team recently captured the 14U Division at USJN's Big Apple Classic in Newark, NJ by going 5-0. Led by Casey Filiault's 18 points, the Hawks opened play on Saturday with a convincing 41-19 victory of Hoop Dreamz. That was followed up with a 32-31 victory over the Va. Diamonds after Christina DiCindio knocked down two free throws with 7 seconds remaining to provide the final margin of victory. Guards Jasmin Watson, Megan Volker and Brianna Love led a balanced Hawks attack on Sunday to convincing victories over the NY Crush Elite in the Semifinals and the WBA Lady Knicks in the Championship Game. The Hawks current season record sits at 19-2. Their three remaining tournaments include Gym Ratz (Albany, NY), Nike Tournament of Champions (Chicago, IL) and USJN Nike National Championship (Washington, DC).
---
RECENT VERBAL COMMITMENTS
---
Grace Stant - Villanova
Tori Wagner - St. Francis of Brooklyn
Alex Barazotti - Loyola
Kat Phipps - St. Francis of Brooklyn
Morgan Graziano - Manhattan
Andy Lennon - Caldwell University
Jessica Louro - Mid Tennessee State
Sam Sullivan - Wagner
Eva Hart - Pace
Cassie Fontana - NYU
Nicole Parriski - Chestnut Hill
Victoria Cardaci - Clemson
Morgan Graziano - Manhattan
Central Jersey Hawk, Morgan Graziano (2015) recently signed to play at Manhattan College. See Morganís story at http://nothingbutskills.com/morgan-graziano-and-manhattan-college-are-all-smiles/
Congrats to the girls, their teammates, coaches and parents on all of their hard work.
---
FORMER HAWKS IN THE NEWS
---
Former 2013 CJ Hawk player
Tara Inman was named Rookie of the Year
for the Seton Hall Womenís Basketball program. Inman appeared in 31 games this season and provided a critical boost off the bench for the Pirates all year. An intense defensive player, she also displayed the ability to shine during pressure situations. She hit two clutch free throws with under a minute to play in a win over Princeton in the second round of the WNIT and had a career-high four steals in the Pirates' three-point win over American in the first round of the postseason. She scored a career-high 11 points on 7-for-8 shooting from the line against UMass Lowell.
For the second week in a row, Adelphi
Senior forward Jessica Kitrys earned Spalding Player of the Week honors for the week of February 24.
This past Saturday, the 6-foot forward became Adelphi's all-time career points leader, with 1,598 points.
The NCAA statistics have Kitrys ranked second in the conference and tenth in the country in field-goal percentage (59.6 percent) and first in the Northeast-10 with 19.4 points per game on 60% shooting. Kitrys is also averaging 7.2 rebounds on the year. Jessica played on Coach Martorelli's 2010 CJ Hawk team for 3 years.
Brown University
Senior co-captain Lauren
Clarke
(Colts Neck, N.J.) was named to the Capital One Academic All-District First Team in an announcement made by CoSIDA on Thursday. As a First Team honoree, Clarke is eligible for Capital One Academic All-American consideration with First Team selections from the other seven districts.
Clarke, Brown's leading scorer, also ranks second overall in the Ivy League with 16.4 points per game and third with 39 three-pointers. On January 3 against New Hampshire, she tallied a career-high 28 points and has scored in double figures in 14-of-16 contests this season.
A 2012-13 Second Team All-Ivy honoree and Business, Entrepreneurship, Organizations concentrator, Clarke ranks 11th on Brown's all-time scoring list with 1,122 points and currently sits atop the record book with 178 career treys. Lauren played on coach Martorelli's 2010 team and Coach Ryan's 2009 squad.